Buying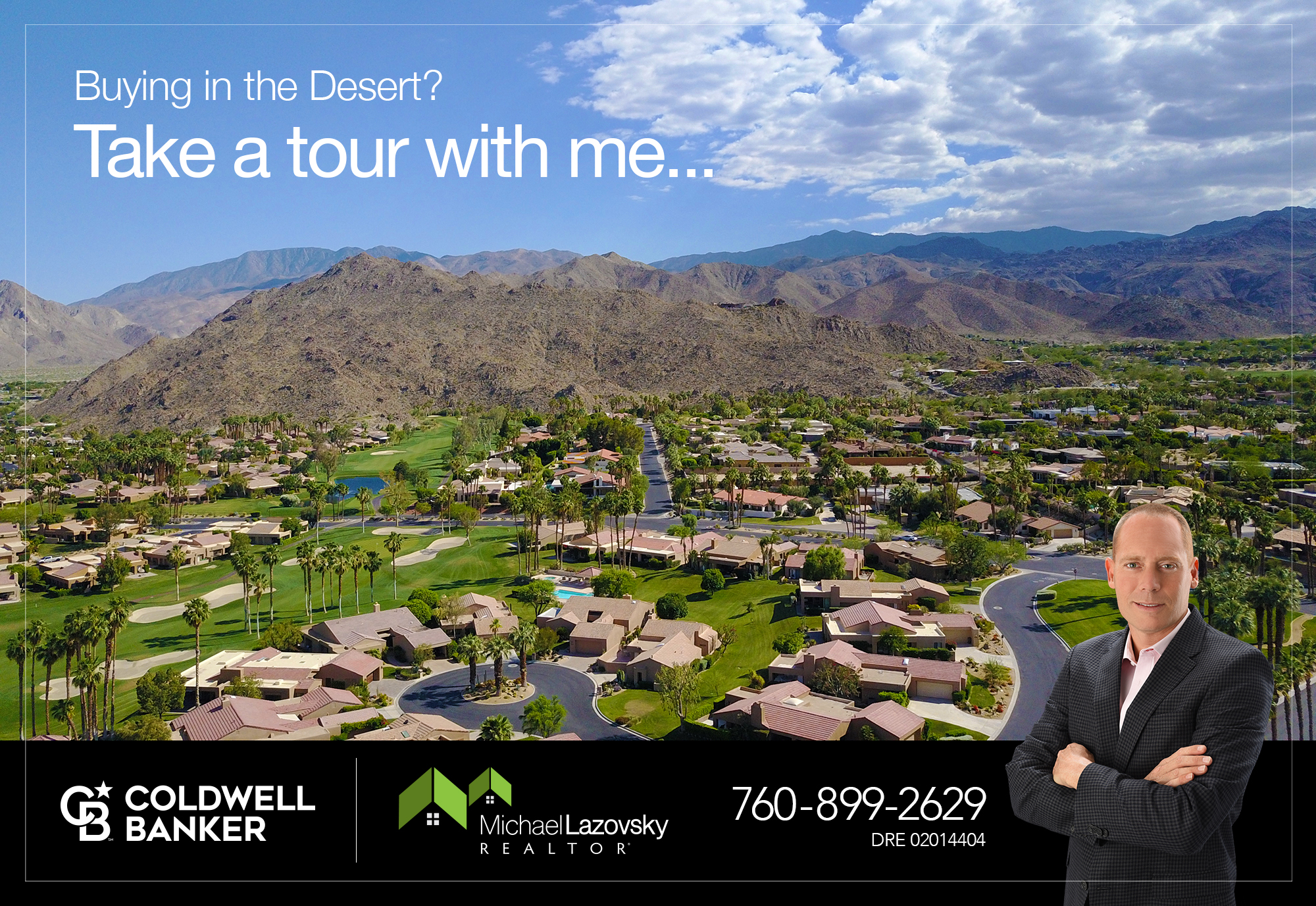 I understand that buying a home is more than just a transaction; it's a life-changing commitment. I am dedicated to providing exceptional, personalized service for you throughout the entire purchase or or sale process. I take pride in the relationships I build, and I work on my client's behalf to help them achieve their real estate goals.

My team of Coldwell Banker real estate experts represent the best and brightest in the industry, and we're always striving to lead the field in research, innovation, and consumer service. Today's buyers and sellers need a trusted resource that can guide them through the complex world of real estate. With Coldwell Banker's extensive knowledge and commitment to providing only the best and most timely information to our clients, Michael Lazovsky | Coldwell Banker is your go to source for real estate industry insight and advice for properties throughout the Desert Cities and Mountain areas of Southern California.
Why Buyers Want Representation
Buyers in all categories have common reasons why representation is important to them:
Access to entire marketplace of available properties
Market and general community information
Property Selection and Verification of Value
Offer Preparation and Negotiation
Financing Assistance and Direction
Property Condition Evaluation
Verification of Miscellaneous Property Considerations
Closing Process Coordination

Benefits of having a dedicated Buyers Agent…
As an agent of the buyer, the Buyers Agent owes all the fiduciary duties (care, loyalty, disclosure, obedience and accounting) to the principal, the buyer.
Buyer agency is a benefit to the overall practice of real estate. For buyers, it has resulted in better service. The client-and-agent relationship demands that the buyer receive the agent's total commitment, effort, and confidentiality during the real estate engagement. If a buyer agent and a buyer enter into a true Buyer Broker Agreement in which the broker will be compensated under a predetermined formula whether the property purchased was listed with an MLS or not, the buyer is potentially able to select a property from a much larger inventory. The agent is benefited because the agent will be compensated regardless of whether the property was MLS listed. A buyer who is represented also receives the full value of an agent's knowledge and skills during the negotiation and closing process.
Under buyer agency, the agent is compelled to provide the best advice, advocacy, and representation possible for the benefit of the buyer. This results in the interests of the buyer being furthered during the offer negotiation process. It also results in the interests of the buyer being constantly monitored and promoted during the closing process. Today's real estate transaction involves many complex issues dealing with appraisal, inspections, title and escrow issues, loan and lender issues, and many more problems that may arise. Only a buyer who is represented by an agent can demand that these issues be dealt with affirmatively for the buyer's direct benefit.
I am ready to represent you in negotiating your real estate transaction. Contact me today to discuss your real estate needs!

Michael Lazovsky, Realtor®
Coldwell Banker Realty
45000 Club Drive
Indian Wells, California
mobile: 760-899-2629
email: michael@lazovskyhomes.com
website: LazovskyHomes.com
DRE 02014404